We should all bow before the legend that is Leander, says Rahul Jacob.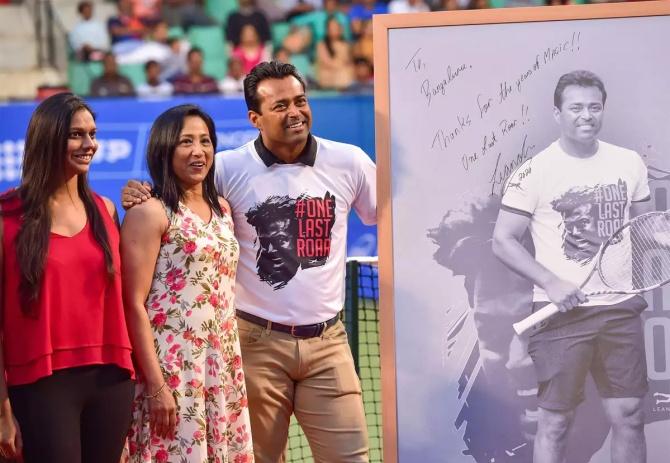 IMAGE: Leander Paes in Bengaluru after making his last appearance at a tournament in India. Photograph: PTI Photo
As a child growing up in Kolkata, Leander Paes had an unusual Sunday morning ritual.
After returning home from church with his parents, he would polish the bronze medal his father Vece received as a member of the Indian hockey team at the Munich Olympics in 1972.
Paes's greatness as a tennis player, especially when playing for India, perhaps owes something to this talismanic routine.
His comment about buffing his father's medal was made at a special ceremony at the ATP Challenger event in Bengaluru to commemorate his last appearance at a tournament in India.
Surrounded by former Olympians, who were hockey players and athletes, Paes explained how the weekly routine made him understand that sports achievements take 'years and years of dedication'.
This seemed too commonplace an explanation for a career that has always had something of the mythological about it.
Consider just his longevity; Paes is retiring this year at 46, three decades after winning the Wimbledon and US Open Boy's Singles titles in 1990.
He has made his name as a doubles great by winning 18 Grand Slams titles, including a mixed doubles career Grand Slam with the Swiss star Martina Hingis.
In a video shown at the Bengaluru ceremony, the legendary Martina Navratilova remarked that, as she chased Billie Jean King's record of 20 titles at Wimbledon in 2003, she decided early on that she would rather have Paes on her side of the net than play against him.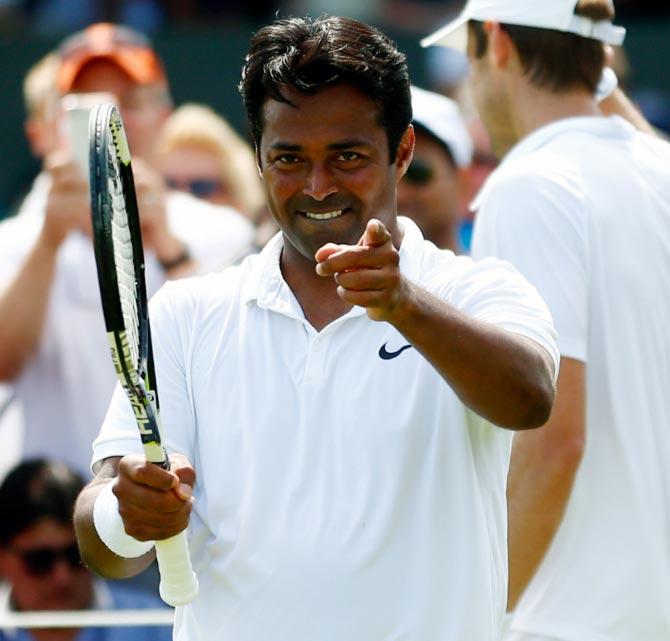 Photograph: Julian Finney/Getty Images
Paes has arguably been the greatest volleyer in doubles the world has ever seen.
His signature vigorous shake of his playing hand from elbow down as he readied himself for a point to begin ought to be emulated because it helped him produce sublime volleys.
Even in Bengaluru, when he and partner Mathew Ebden battled through a final set sudden death 10-point tiebreaker to reach the finals, one of his backhand volleys played a part in propelling the pair to victory.
In tennis, a groundstroke slammed straight at the player at the net can be the hardest to volley.
Counterintuitively, Paes, a ferociously aggressive poacher at the net, deliberately walked into such enemy fire, creating winners instead with the flick of his wrist.
His trademark chipped backhand return of serve is a hybrid stroke that could be labelled a sort of half-volley, feeding off the pace of an opponent's serve and redirecting it to catch opponents off guard.
Through his caree, his service returns floated like a leaf on a breeze onto the tramlines of the doubles court.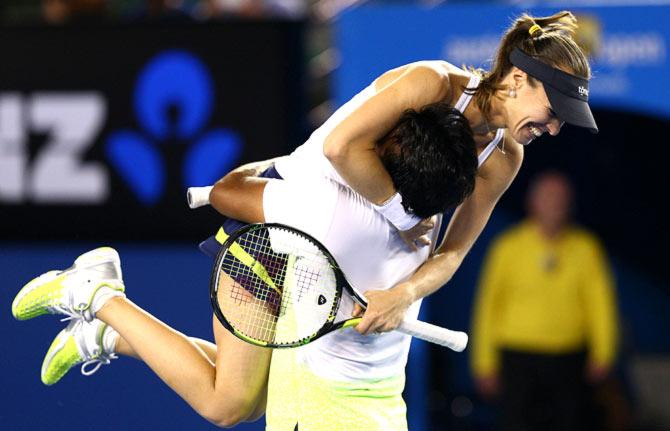 IMAGE: Leander and Martina Hingis celebrate winning the 2015 Australian Open mixed doubles title. Photograph: Cameron Spencer/Getty Images
Paes's mediocre record as a singles player, where he never broke into the top 50, is a mystery.
He lacked a killer shot beyond his volley and perhaps the killer instinct in singles as well. His height, at 5'10", was short by tennis standards.
He did not have the huge serve that propelled serve and volley tennis's last exponents -- Pete Sampras, Goran Ivanisevic and Pat Rafter -- to wins.
The rare exception was miraculously in the Davis Cup where Paes was often an overachiever on the singles court.
He beat the likes of Henri Leconte (in France on clay in the 1990s) to take India into the semi finals in 1993 and, on other occasions, Wayne Ferreira and Ivanisevic.
In each instance, the wide gap in rankings might have suggested the contests would be a walkover.
Instead, as Ivanisevic remarked, Paes could sometimes seem like 'two persons'; the tribute captured Paes's speed around the net, but also aptly described his alter ego that showed up at singles matches when playing for India.
Playing with a wrist injury, he won a bronze of his own in singles at the Atlanta Olympics in 1996, losing to Andre Agassi in the semis.
Paes, like Vijay Amritraj before him, played the Davis Cup with a passion and tenacity that they did not bring often enough to their singles.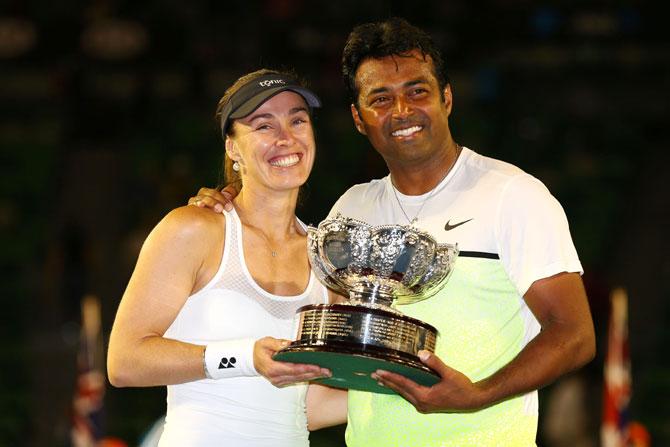 Photograph: Cameron Spencer/Getty Images
Paes'S desire to stay on the Indian team in the past few years, when selectors looked past his ranking to include him, sparked controversy, but one can only look back with gratitude.
The sports pages from Paes's last tournament in India carried a sense of deja vu. As all the Indians playing singles in the Bengaluru Open crashed out in the round of 16, The Hindu's story was headlined: 'Paes lights up an otherwise dark day for Indians'.
As the poetic sports writer Rohit Brijnath put it after Paes's heroics in a hard-fought tie against Pakistan back in 2006, 'One day his worn out legs will revolt, his lungs will mutiny, his shoulder will press charges, and then, finally, reluctantly, he'll drag himself off court... He'll go one day, but we won't forget, we can't, we shouldn't.'
Reams have been written about Paes's unlikely Davis Cup wins, but this notion of him being at his best as the sum of different parts was vividly illustrated in his mixed doubles wins with Martina Navratilova and Martina Hingis.
Mixed doubles is an under-appreciated part of Grand Slam events but is like chess on a tennis court; the male partner seeks to blunt the raw power of his male opponent by poaching at the net while the woman player's canny ground strokes and volleys create opportunities.
No pair in recent memory has excelled at this as Paes and Hingis did, that too late in their careers -- indeed after the Swiss had returned from retirement.
After Hingis-Paes's crushing 6-1, 6-1 win at Wimbledon in the 2015 finals, the BBC commentator said that it was the best display of mixed doubles he had seen.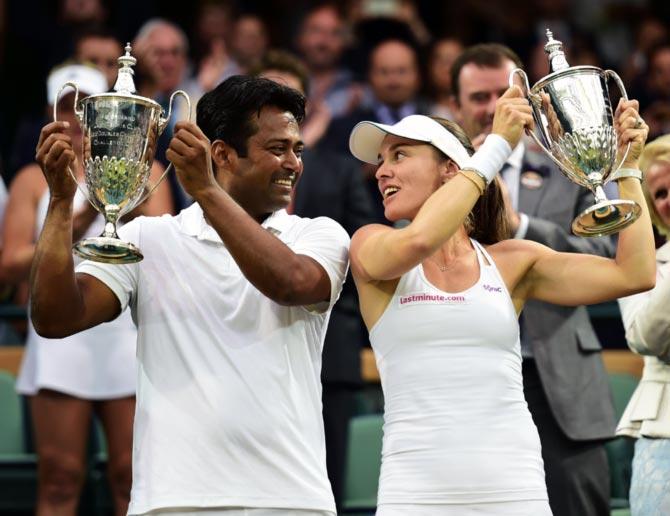 IMAGE: Leander Paes and Martina Hingis celebrate winning the Wimbledon mixed doubles title. Photograph: Shaun Botterill/Getty Images
The joy that Paes brought to a tennis court was at its most infectious in mixed doubles.
I was courtside at the Australian Open in 2016 watching him and Hingis as defending champions romp through an early round.
They made a handsome couple from the Hollywood of yesteryear: There has always been something of Harry Belafonte in Paes's star quality and smile while Hingis in her thirties looked like Audrey Hepburn.
There was so much laughter alongside audaciously stylish tennis that it seemed both a club match and a Grand Slam event.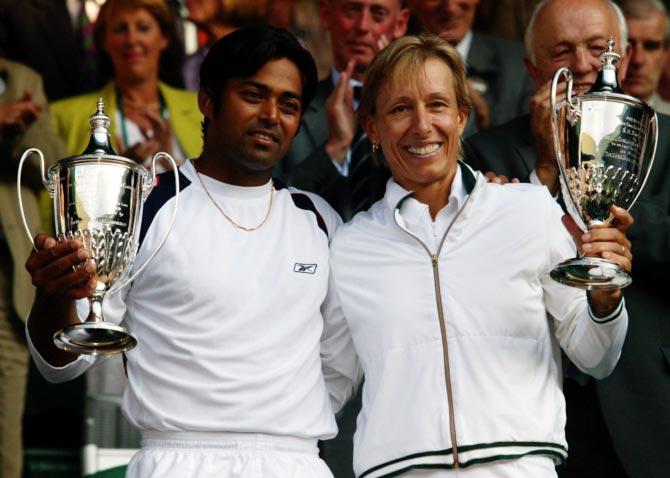 IMAGE: Leander and Martina Navratilova after winning the mixed doubles title at Wimbledon in 2003. Photograph: Mike Hewitt/Getty Images.
Paes has been endearingly -- and entertainingly -- content to play second fiddle to his legendary women partners after the match.
Playing team tennis for the Washington Kastles some years ago, he responded to winning the match by kneeling and placing Hingis's foot on his knee as if he was polishing her shoes.
In the moments after he partnered Navratilova to help her win what had seemed for her a long elusive 20th Wimbledon title in 2003, the great champion, then 46, moved to hug him.
Paes responded with a chivalrous, perfectly timed bow, theatrically raising his hands as if about to prostrate himself before that legendary queen of Centre Court.
Minutes later, during the customary mixed doubles presentation in the royal box, Paes waved off congratulations from the assembled grandees while continuing to applaud Navratilova.
In Bengaluru, it was undeniably his moment, but Paes's speech deflected the praise on to the Olympians on stage and to his parents. Paes received a standing ovation and a turban festooned in gold, but in retrospect we should all have bowed before the legend that is Leander.