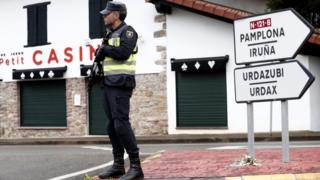 Spanish police guard the border with France near the village of Dantxarinea
Deaths from coronavirus in Spain surged to 491 on Tuesday from 309 the day before, health officials have said.
The number of confirmed cases also soared by 2,000 to 11,178, as Spain closed its borders and maintained a partial lock down on 47 million people.
Spain is the worst-affected part of Europe after Italy, which has had 26,000 cases and 2,500 deaths.
The EU is set to ban all non-essential travel from outside the bloc, as France starts its own strict lock down.
Death tolls have increased elsewhere, with Iran reporting 135 more, taking its official total close to 1,000.
The EU travel ban will be in place for at least 30 days. It will affect all foreign visitors except long-term residents, family members of EU nationals and diplomats, cross-border and healthcare workers, and people transporting goods.
EU leaders will discuss the measures via video conference later on Tuesday. Meanwhile,

the Euro 2020 football competition has been postponed by a year.
§
A visual guide to the pandemic
§
Britons urged to avoid non-essential travel abroad
The latest World Heath Organization (WHO) figures

list nearly 185,000 infections globally and 7,500 deaths.
What are the latest updates in Europe?
In

France

, citizens who leave home must now carry a document detailing the reasons why, with fines for transgressors to be set at €135 ($150; £123).
It comes after President Macron put the country on a war-footing, ordering the population to stay at home and only go out for essential trips.
France has so far registered more than 6,000 infections and 148 deaths.
Mr Macron said the previous measures, including the closing of schools, cafes and non-essential shops, had proven insufficient.
His 20-minute televised address on Monday was watched by a record 35.3 million people, Le Monde reported.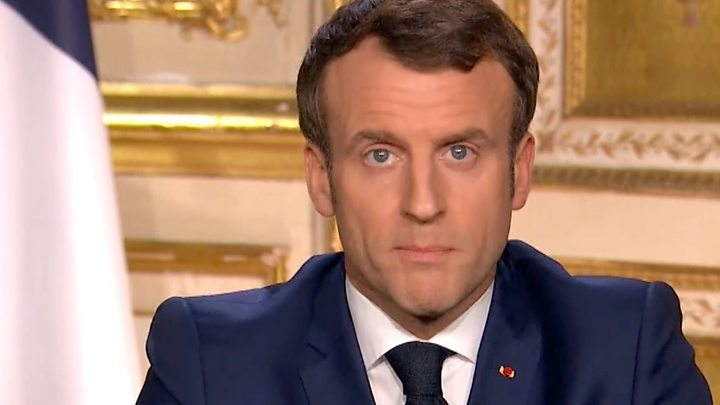 In

Britain

, people have been told to avoid social contact, work from home if they can and avoid all non-essential foreign travel.
The chancellor, Rishi Sunak, has unveiled a £330bn-financial package to ease the burden caused by the virus, after Prime Minister Boris Johnson on Monday urged people to avoid pubs, clubs and cafes.
Meanwhile, the government's chief scientific adviser said it would be a "good outcome" if 20,000 or fewer people died of the virus in the UK.
The latest set of Brexit talks has also been delayed.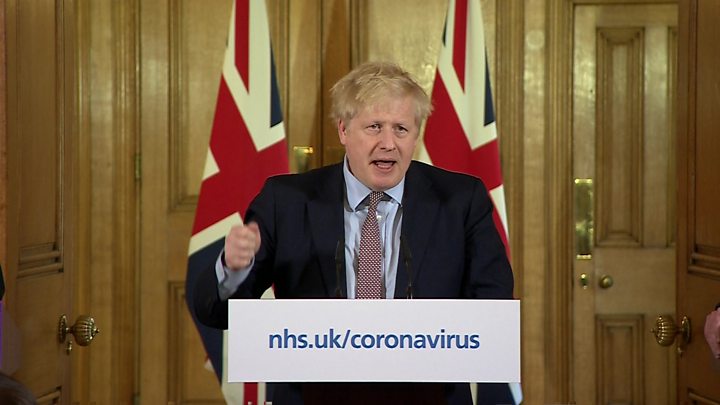 The number of confirmed cases in

Spain

has soared by 2,000 to 11,178. Authorities there are maintaining a partial lockdown on 47 million people.
Death tolls have increased elsewhere too, with Iran reporting 135 more, taking its official total close to 1,000.
Spain began at midnight stopping cars crossing its borders from France and Portugal. Only Spanish nationals, residents and cross-border workers were being allowed to the country, one of the worst-affected in Europe.
Madrid remains the area with the highest number of cases - 4,871 - with Catalonia next on 1,394.
Some 1,028 people are listed as having recovered from the Covid-19 disease.
El Pais reports that the the government of the Balearic Islands has asked the 25,000 tourists who are still on the islands to leave and return home.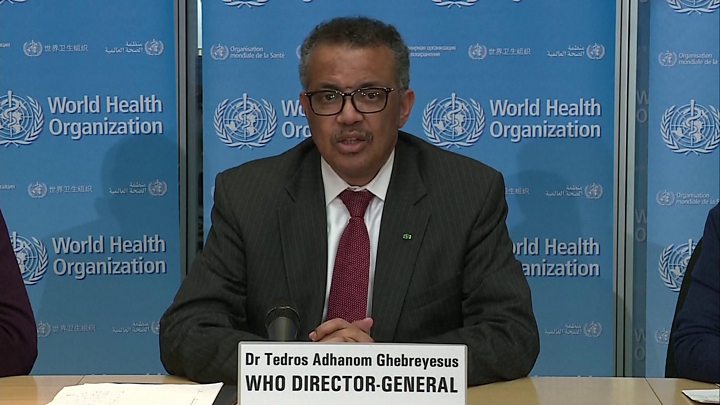 Italy
, which has registered the most cases outside China at more than 26,000, announced another surge in deaths on Tuesday, from 2,150 to 2,503. The country remains in lockdown.
The government meanwhile is set to renationalise flag carrier airline Alitalia with a rescue package worth $670m (£550m).
Germany
, which has had more than 6,000 cases and 13 deaths, banned religious services and told people to cancel any domestic or foreign holiday travel.
Venues including clubs, bars, leisure facilities, zoos and playgrounds will be closed. Schools are already shut.
The country's disease control centre is training students to assist health authorities with contact tracing of infected patients, Der Spiegel reports.
§
Belgium's death toll doubled from five to 10 on on Tuesday
§
Sweden is to close all high schools and universities from Wednesday
§
Orthodox priests in Georgia have started blessing the streets of the capital Tbilisi with holy water
What is the latest elsewhere?
Iran
remains the world's third-worst-affected nation, after China and Italy.
More than 16,000 people are confirmed as infected and 988 have died, although some analysts believe the figures are far higher than officially reported.
A spokesman for the judiciary said on Tuesday that 85,000 prisoners, including political prisoners, had been temporarily released to try to combat the spread.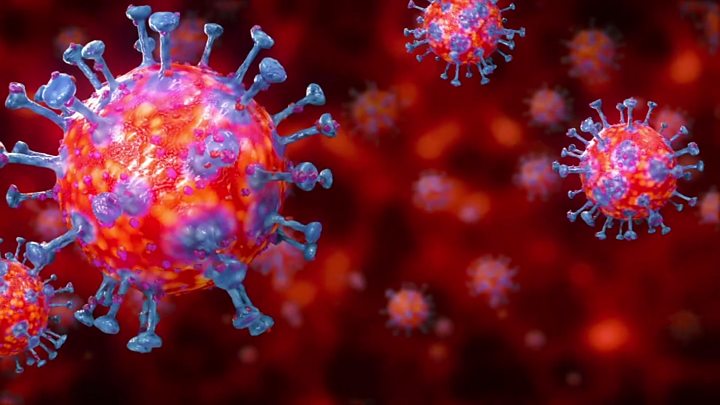 Gholamhossein Esmaili did not say when or how those freed would be returned to prison, but stressed that only prisoners serving five years or less had been released.
Most shops and restaurants remain open but the health ministry has urged people to stay at home.
In

the US

, the White House is working on a economic stimulus package reported to be worth some $850bn, with Treasury Secretary Steve Mnuchin saying the administration was "looking at sending cheques to Americans immediately".
The total number of cases has risen to above 4,200, with 75 deaths, said the US Centers for Disease Control and Prevention. Most cases are in the states of New York (669), Washington (708) and California (369).