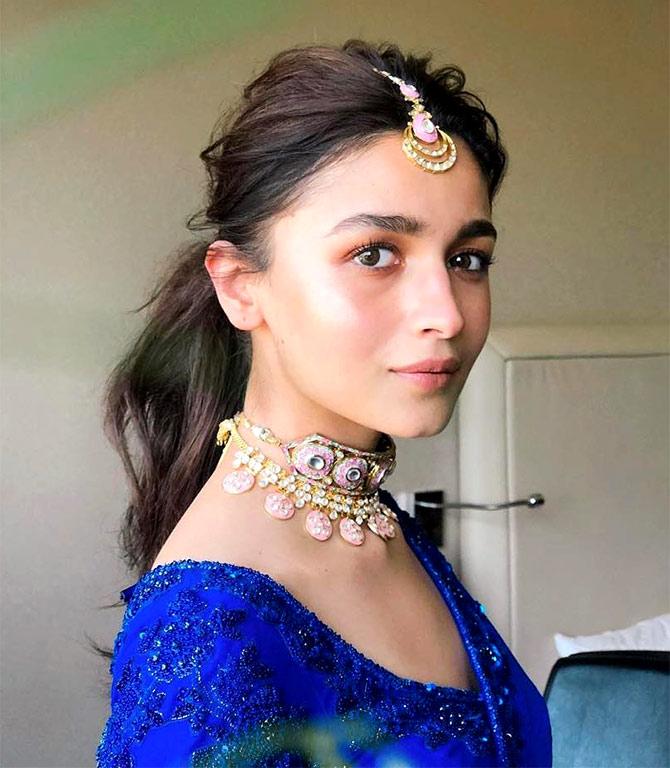 Photograph: Kind courtesy Alia Bhatt/Instagram
The virtual world -- not to be confused with the real world -- is abuzz with talk of The Great Big Split of 2020.
It all started when on Alia Bhatt's birthday on March 15, the love of her life was nowhere to be seen.
Why was Ranbir Kapoor not seen with Alia on her birthday? Netizens were deeply concerned at what this absence could mean.
Then there are reports on how Ranbir has been 'cold' to Alia in public of late.
Subhash K Jha
checked with one of Alia and Ranbir's closest friends who says, "Who said they didn't meet on her birthday? Right now Ranbir has his father's health issues to deal with. He is taking time out from work to be with his parents as much as possible. And Alia is all for Ranbir's family-time plans."
As for being 'cold' to Alia, the friend explains, "Ranbir is known to be moody. People close to him have learnt to deal with his moods. There are days when he doesn't speak to anybody."
Subhash also checked with Alia about the rift rumours and her response was, "What rubbish!"
Meanwhile, with the coronavirus playing havoc with shooting schedules, some of the biggest films find their future in danger. Among them is S S Rajamouli's RRR.
The film has been plagued by schedule and casting problems, what with Ram Charan Teja injuring himself.
Then British actress Daisy Edgar Jones, who was signed up to star opposite NTR Jr, backed out.
Now Subhash hears that Alia, who was to shoot for her guest appearance in RRR, will find it difficult to juggle her dates.
"Alia was to shoot for Sanjay Leela Bhansali's Gangubai Kathiawadi through March and then join Rajamouli's unit in Hyderabad in April," a source tells Subhash. "But now with all shoots cancelled, she has to re-shuffle her dates."
"Since she is the hero of Bhansali's film and only has a cameo in Rajamouli's film, she may end up not doing Rajamouli's film at all."