While people mostly use honey to sweeten foods and beverages, it also has some therapeutic value for the skin.
Many products available over the counter, such as lip ointments, aftersun creams, and lotions, contain varying amounts of honey.
An increasing amount of evidence supports the use of honey as a remedy for many skin conditions. Keep reading to learn more about the research on the benefits of honey, as well as how to use it and the potential side effects.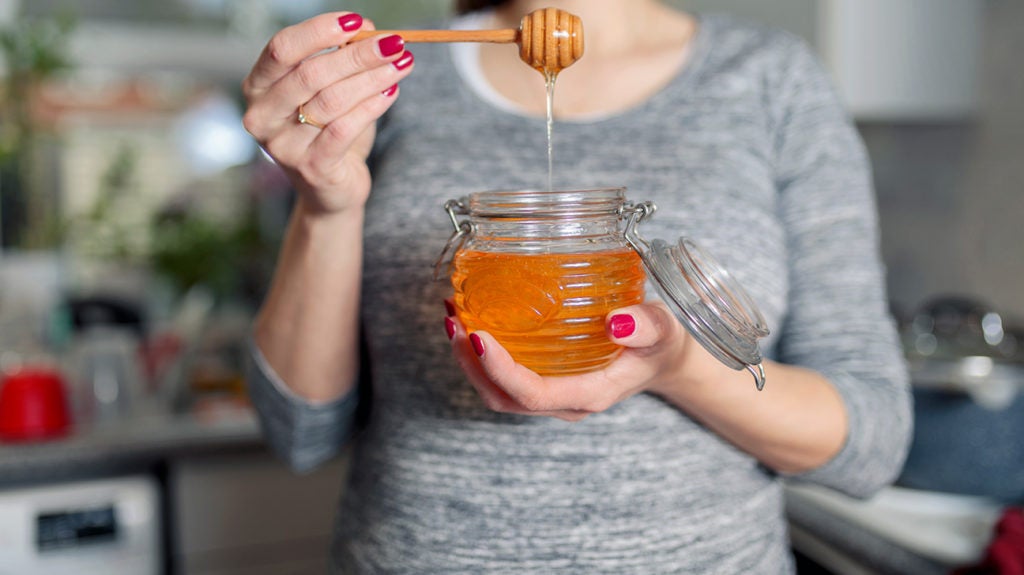 Honey may aid with skin conditions such as acne and psoriasis.
The use of honey in skin care is not a new concept. However, researchers have recently started to verify some of the anecdotal evidence about the benefits of applying honey to the skin.
These benefits may include the following:
Microbial properties and wound healing
One of the most widely recognized properties of honey is its ability to help fight against skin infections. According to one review, many in vitro studies support the idea that honey has antimicrobial properties.
The same review states that Manuka honey from New Zealand helps with healing wounds. Several countries, including the United States, have approved honey in medications for healing wounds.
Anti-inflammatory properties
Honey also has anti-inflammatory properties that can aid with skin conditions such as acne or psoriasis.
In 2017 study on the honey of the stingless bee found that the raw honey has a strong anti-inflammatory effect. Another review of studies supports this, finding that most honey varieties have anti-inflammatory properties.
Anti-aging effects
According to an older study, honey can help with improving the skin's appearance. The authors state that it can help stop wrinkles from forming, keep the skin looking young, and prevent infections on the skin that can accelerate aging.
Treatment of skin cancer
Some evidence suggests that honey can help treat skin cancer and other cancers. A review article found several studies showing positive results of using honey on cancer cells. The studies mostly focused on honey's ability to help slow the growth and reproduction of cancerous cells in the body.
Another more recent study also cites honey's ability to help with cancer treatment. The study indicates that honey has antiproliferative, anticancer, and antimetastatic effects.
A person should talk to their doctor if they have, or suspect that they have, skin cancer. Only a doctor can diagnose the condition. They can also help create an effective treatment plan for the person.
People should not try to treat skin cancer with honey alone, as it is not a reliable treatment. However, they can talk to their doctor about using this remedy alongside medical treatments.