Nothing is going to dramatically open up on May 3.
There will be too many ifs and buts, and terms and conditions and guidelines in leading one's life in various zones, reveals Sheela Bhatt.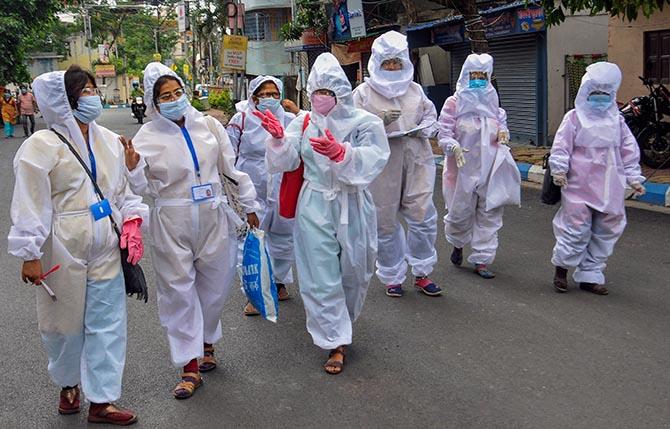 The COVID-19 pandemic has brought India on the cusp of unimaginable change.
India's success over the health emergency, whenever it happens, will not allow the nation to celebrate as it will be followed by a Himalayan-sized economic crisis.
The economic losses are piling up so fast that no one inside the government, or outside, is able to even do an accurate assessment of it right now.
It is an unfortunate situation where health and economy are pitted against each other.
Prime Minister Narendra Damodardas Modi has aptly defined this epic dilemma of the nation as issues of 'Jaan aur Jahaan (life and world)'.
But when more than 29,59,929 confirmed cases of infection are notified and 202,733 people have died in 213 countries as on April 28, it is difficult to assess the actual damage only to India -- when it is a crisis confronting all of humankind.
In strange times such as this, Sheela Bhatt spoke to scientists, experts, a couple of political and professional members of the government's special task forces fighting COVID-19 to draw up an FAQ to give you a broad idea of India's current thinking.
Will the second phase of the lockdown end on May 3?
The word 'lockdown' will remain in our life a little longer. But the third phase will be milder and different.
PM Modi's four video conferences with

CMs

of states suggest that the economic slide is a concern of all leaders.
If in the first and second PM-CMs conferences the emphasis was on how to save the lives of Indians, the third and fourth conferences shifted their focus from health to economic issues.
Whenever PM Modi delivers his third coronavirus-related address to the nation, which is likely to be before May 2, expectations are high that he will speak more about the health of the economy.
Also, the thing to note is that the home ministry's many guidelines have already given relaxations to rural India.
Agro-markets are opening up except in those rural areas under the red zone.
Farmers are extended help to harvest and transport in order to market their crops.
Things are imperfect on the ground, but now there is a better attempt by all stakeholders to balance the fear of death and the fear of an economic collapse.
The harshest measure of the lockdown has been to close down all modes of travel.
Without swift transport and communication urban life is no more urban.
Flights, train, buses, taxis and autorickshaws are not likely to resume as before on May 3. The protocols to restart public transport are being hotly debated.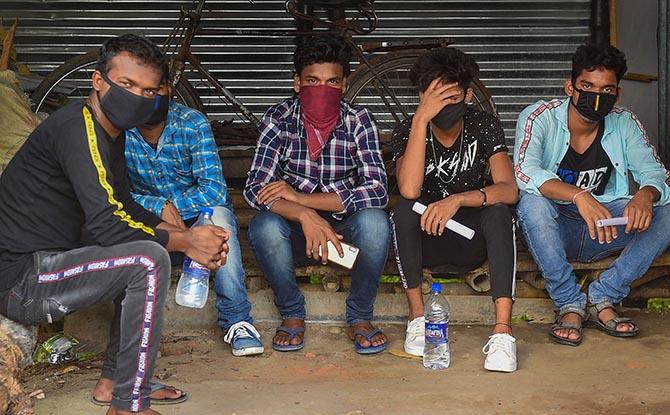 IMAGE: Migrant workers wait for a bus to reach their villages in Kolkata, April 29, 2020. Photograph: Ashok Bhaumik/PTI Photo
Scientists who are advising the governments in the states and Centre have said that if the government normalises transport services overnight, then the risk of spread of infection is likely to go up manifold.
In a country of 130 crore plus, the testing of a mere 770,764 Indians (till April 29) isn't representative, and can never be so.
In spite of it, however, there is agreement in principle that all stranded Indian nationals abroad should be flown back from around 24 countries.
India is the only country that has halted even special flights to bring back its own citizens.
Importantly, urban migrant labourers will also be sent back to their native places as the standard operating procedure for inter-state movement is ready and sent to the states.
Endless debates have taken place inside the government over the issue. There are a few aspects of the tragic exodus that has created this Shakespearean tragedy.
One, the real number of migrant labourers is not in lakhs, but in crores.
If all metros and towns are taken into account, there are not less than 4.5 crore labourers and daily wagers who would have certainly opted to leave the host city to go back home if they had known about the lockdown in advance.
"In India the institution of family is strong. During the mahamari (epidemic), when the fear of death is real, poor people like to be with their family, and not in a far away, warmth-less city," says a senior minister.
And any relief to them in times of crisis, which is definitely the role of the State, demands a huge budget.
The politics over the migrants's plight between states is essentially about money.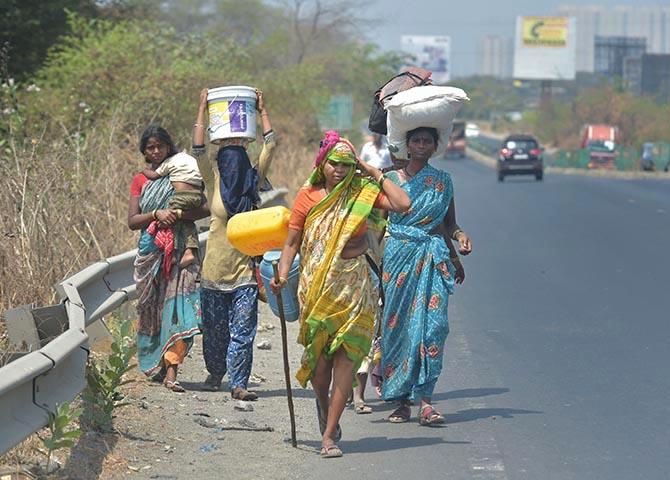 IMAGE: Migrant workers from Akola walk along the Mumbai-Nashik highway in Thane, April 29, 2020. Photograph: Mitesh Bhuvad/PTI Photo
At the first PM-CM conference, Maharashtra Chief Minister Uddhav Thackeray had insisted that all migrant labourers in his state should be sent back to their respective states; what he did not spell out was that feeding 5 lakh labourers in city like Mumbai is an expensive proposition.
The migrant labourers issue became big because of the tussle between the host state and the workers's home states over who should foot the bill.
Also, home states found strong resistance from most villages to allowing their own people to enter without being quarantined. Proving that knowledge of coronavirus has reached villages as much as it has in the cities.
In different districts in Madhya Pradesh, Bihar, West Bengal, Odisha and Rajasthan, the states were not in a position to set up more than 1,000 quarantine centres overnight. Again, that too would require a huge budget.
One expert who participated in the debate over the migrants issue at the government meeting mentioned that "overflowing Bihari crowds in trains on the eve of the Chhath festival" should be kept in mind if metros were to allow more than four crore migrant labourers to return home, as each train cannot carry more than 2,000 passengers.
The logistics of migrant labourers's transport, quarantine and medical care turned out to be so huge and demanding that it failed everybody and all systems.
Also, according to one estimate, India's death count can reach 3,000 by August if heavy inter-state movement takes place.
And that precisely is the government's worry, which is why it is taking its own time in formulating an exit strategy for the lockdown.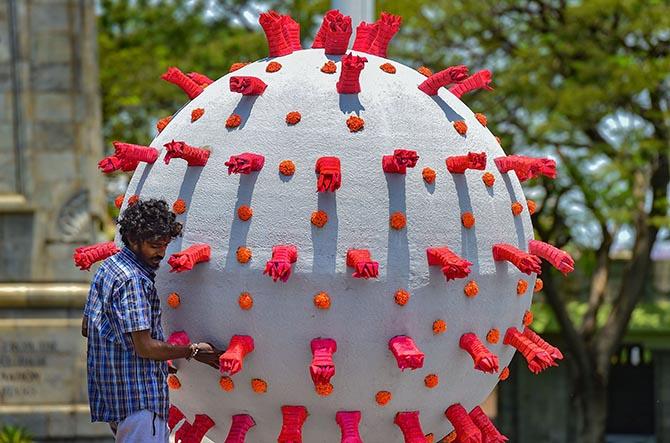 IMAGE: An artist gives a final touch to a model based on coronavirus in Chennai, April 29, 2020. Photograph: R Senthil Kumar/PTI Photo
The broad strategy is to allow life to get back to normal mode in the green zones but minus public transport, while stricter implementation of lockdown in red zones and more elaborate guidelines will be issued for orange zones.
In short, nothing is going to dramatically open up on May 3.
There will be too many ifs and buts and terms and conditions and guidelines in leading one's life in various zones.
Right now police and doctors -- medical staff, that is -- are the two forces driving the nation. That is unlikely to change soon.
The exit strategy is turning out to be such a dicey thing for the Centre and state governments that imposing a lockdown looks easier in retrospect.
Also, there are constant political manoeuvrings between state capitals and the Centre. The Indian federal system is on test and under strain.
It is normal for politicians to want to take credit for keeping the death toll under control but not the blame for all-round miseries that have befallen the people, particularly the poor people.
Opening of the lockdown is thus a political football.
Whoever agrees and takes the lead to open up the lockdown will have to bear the brunt of a surge in the number of infected patients -- if it happens.
India has certainly done better than most countries.
Should India lose the advantage accrued so far by hastening to lift the lockdown and move towards a risk that's unknown?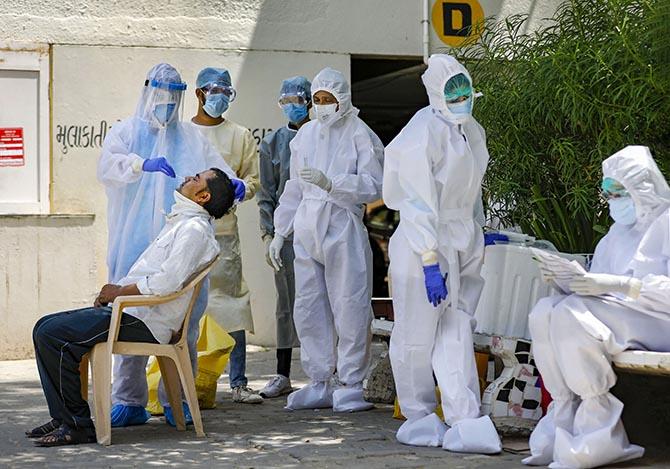 IMAGE: A team of medics collect swab sample of a resident in Ahmedabad, April 29, 2020. Photograph: PTI Photo
What's on top of the mind for the government?
The vaccine is a magic pill that would stop the further collapse of the world economy and halt the turbulence in global politics. There is a mad rush all over the world to get it first and fast.
It's unlikely to materialise before early next year (barring a miracle), but the sheer helplessness of the world is forcing research laboratories to make unrealistic claims. Inflated claims are made in the media to attract investments for research in companies that are developing a vaccine.
The government has received enough data to understand what went on in other countries, including China, Italy, the US and Britain.
On the basis of primary data, Indian experts believe that, most probably, patients who had low immunity have got infected more and suffered more. Particularly, the high number of deaths of Americans has shocked world capitals.
In the interiors of India, more than anything the death figures from China, the US, Italy and the UK have percolated faster and added to the fear.
Coronavirus is an unknown commodity to the common man even now so the fear of it is disproportionate to its real danger to the masses.
AIIMS Director Dr Randeep Guleria has said many times that "COVID-19 is not a very deadly disease and 90 to 95 per cent of those infected can recover, but a delay in treatment could lead to higher mortality among patients."
Most experts are saying that till a vaccine is found, the mental agony all around won't go away.
Even if the figure of infected patients subsides in this season, what's the guarantee that it will not shoot up again in the next winter?
Precisely for this reason, the vaccine is only solution to end this mental turbulence.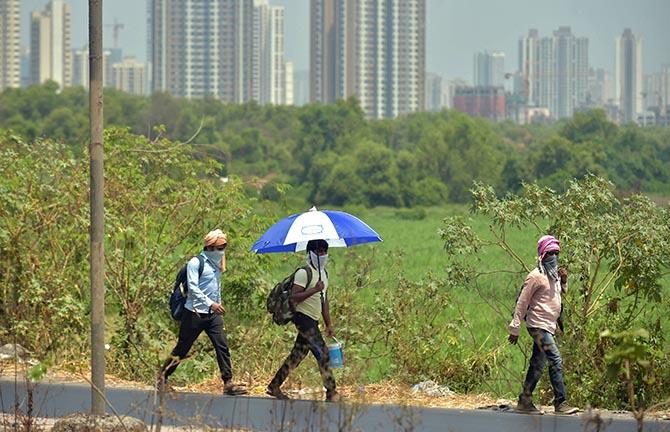 IMAGE: Migrant workers from Lucknow walk along the Mumbai-Nashik highway in Thane, April 29, 2020. Photograph: Mitesh Bhuvad/PTI
Photo
Humankind has shown time and again that it will remain on top of the situation in its fight against such disasters, but by the time it finds a vaccine, inevitably, hundreds of lives would have been lost and economies would have been shattered.
The most important aspect of this pandemic is that like the global weapon industries, some global pharmaceutical players too are known to be notorious in their deals.
Multinationals have been caught in unethical trials and testing, all of them are competitive and profit-making machines.
Today, every one of us is at the mercy of the pharma industry.
Some Indian pharma companies are already minting money (of course, legitimately) out of the global pandemic.
Their Chinese counterparts are booking orders faster than ever.
India, being among the top three in the global pharma sector, is in a better position than most other countries. This is a tremendous advantage that gives some kind of safety net in all the turbulence around us.
But the vaccine development is the real game.
The new great game of international affairs will hover around who finds a vaccine first and at what price it is provided to the affected countries.
The Indian government is acutely aware of the game. Global diplomacy will take shape around medical superpowers and the achievement in controlling the crisis.
China, US, the European Union and India are at the frontline. All governments are keeping their fingers crossed as the vaccine is a weapon to get back to normalcy.