'We should start giving this vaccination immediately to doctors, nurses etc and also to the elderly.'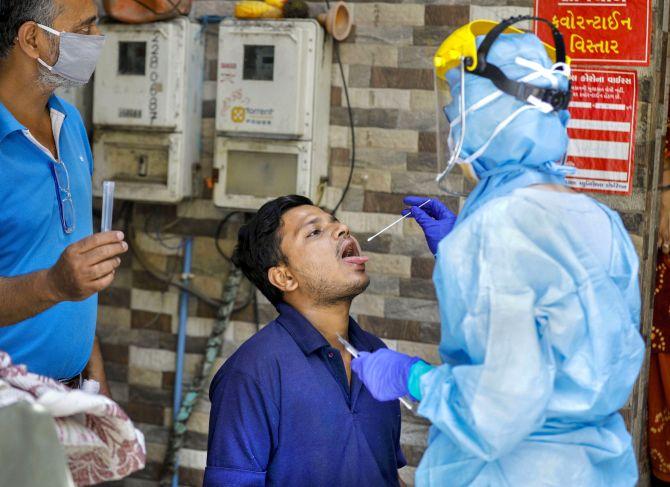 IMAGE: A lab technician collects a swab for a COVID-19 test. Photograph: PTI Photo
"We are already vaccinated and we have tolerated it. So, we do not need any more testing as the phase 1 safety part is already done, and there is no time also. We can directly go for vaccination," Dr Gobardhan Das, the well-known immunologist and professor at the Special Centre of Molecular Medicine at Jawaharlal Nehru University, tells in the concluding segment of interview.
In the case of COVID-19, the vulnerable are the elderly and the mortality rate among them is very high...
That's because our immune system slowly wears off with the progression of age. So, the immune response once you cross 50 goes down. Therefore, the resistance power against bacteria or virus, also goes down.
So, the less immune response or the impaired immune response may not be sufficient to fight against the virus. That's why the elderly people are much more vulnerable than the young.
You said, as you age, your immune response also comes down. Surprisingly, in India many very old people recovered from the infection...
When you are given the BCG vaccine, your immune response is all set. But this immune response does not last for a long time. It wears out slowly.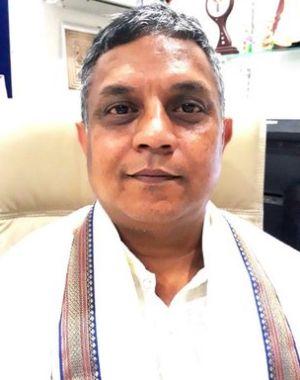 However, we may get exposed to various micro bacterial strains in our life time. This recurrence boosts the immune system. That's why our elderly people are a in a little better position in their response.
How does the BCG vaccine work? Does it stop a person from getting infected, or it only helps chances of a person's survival after he gets infected?
When you are vaccinated with BCG, your immune response is in the memory. That means, when you are exposed to a virus or the organisms against which the BCG vaccine is mounted, it is killed within a few hours or within a day or two.
It means, the immune response works in the infection stage itself.
Now, countries like Australia and The Netherlands have started giving the BCG vaccine to healthcare workers against COVID-19. Can it be used in countries where the vaccine has already been given to people when they were children?
In India, we have already been vaccinated, but like I said earlier, the effect of the vaccine fades away as you age.
So, we have to give the vaccine to not only those who are not vaccinated but to those who are already vaccinated. It is to boost the immune response.
You must have noticed that on my Twitter handle, I have been suggesting this for the last one month. Now, we see that many countries including Australia, Germany, The Netherlands, etc are working on the same idea. They are vaccinating or re-vaccinating people.
Are they using the same BCG vaccine that we have been giving here?
Australia is going ahead with exactly the same combination that we use.
But Germany is using a newer version of BCG which is a genetically modified recombinant strain wherein they have removed one gene and introduced another gene. So, it is a recombinant strain, and it may give a better viral immune response.
In fact, this modified one is developed and already in production in our serum institute in India. Because it is available in India, I have been saying everywhere that we should start giving this vaccination immediately to our healthcare workers, doctors, nurses, etc and also to the elderly.
Why is it that even when we have the vaccine, we are not using it?
I am only a scientist and I can only suggest. I have been widely campaigning that we should go for vaccination.
What I believe is, we should start with the most vulnerable like those work closely with the COVID-19 patients, and then the elderly. You can exclude children and young people as they are already resistant.
Do we need any scientific testing before we use the vaccine?
We are already vaccinated and we have tolerated it. So, we do not need any more testing as the phase 1 safety part is already done, and there is no time also. We can directly go for vaccination.
Do you feel before a second wave of the virus starts, we should do the vaccination?
I would say, the sooner the better. The virus is not going to disappear easily. We may see another wave down the road. So, we should be ahead of that.
You feel the BCG vaccine can be a game-changer?
I have been saying this for some time, that the BCG vaccine could be a game-changer.
At present, in which direction do you see the trajectory of the virus going?
We are lucky that we had an early lockdown which definitely slowed down the trajectory.
If you remove the Nizamuddin Markaz incident, our trajectory is almost flat.
When you compare India with other countries, we are far, far better.
The second reason for this trajectory is we are already immune because of the BCG vaccine. Take, for example the case of the singer who attended many parties. While she was tested positive, none of the others who attended the parties were tested positive.
That is why I say two things are working in our favour now: The early lockdown and our immune system.