The airports in Kolkata and Bagdogra in West Bengal and Vizag and Vijayawada in Andhra Pradesh will not handle any domestic flights on Monday while the ones at Mumbai, Chennai and Hyderabad will deal with reduced number of domestic services, senior government officials said on Sunday.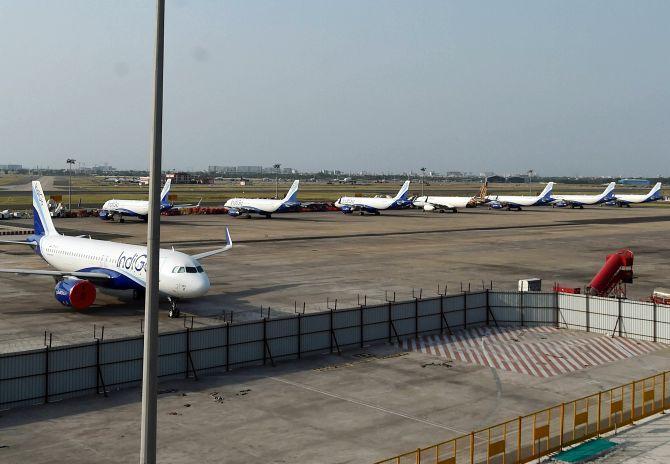 IMAGE: Aeroplanes parked at Chennai airport during the ongoing COVID-19 nationwide lockdown. Photograph: R Senthil Kumar/PTI Photo
A day before resumption of domestic commercial passenger flights across India, multiple meetings were held at the civil aviation ministry among various stakeholders as states expressed their reluctance to deal with so many incoming flyers amid the coronavirus pandemic.
Therefore, it was decided on Sunday evening that Kolkata and Bagdogra will each handle just 20 flights per day from Thursday, the officials said, adding that these two airports in West Bengal will not handle any flights between Monday and Wednesday.
"It has been a long day of hard negotiations with various state govts to recommence civil aviation operations in the country," said civil aviation minister Hardeep Singh Puri on Twitter on Sunday night.
"Except Andhra Pradesh which will start on 26/5 & West Bengal on 28/5, domestic flights will recommence across the country from tomorrow (Monday)," he added.
The Hyderabad airport will deal with only 30 domestic flights per day from Monday, the government officials said, adding that 50 per cent of these will be departures and remaining would be arrivals.
There will be no domestic services at the Vijaywada and the Vizag airports on Monday, and they will be handling only 20 per cent of the pre-lockdown flights from Tuesday onwards, the officials said.
"As per request of the state govt, operations in Andhra Pradesh will recommence on a limited scale from 26 May," Puri said.
"For Tamil Nadu there will be max 25 arrivals in Chennai but there's no limit on the number of departures. For other airports in Tamil Nadu flights will operate as in other parts of the country," he added.
Indian airlines, who had opened their bookings on domestic services 2-3 days ago, will have to cancel a significant number of flights to these cities where the central government curtailed operations on Sunday.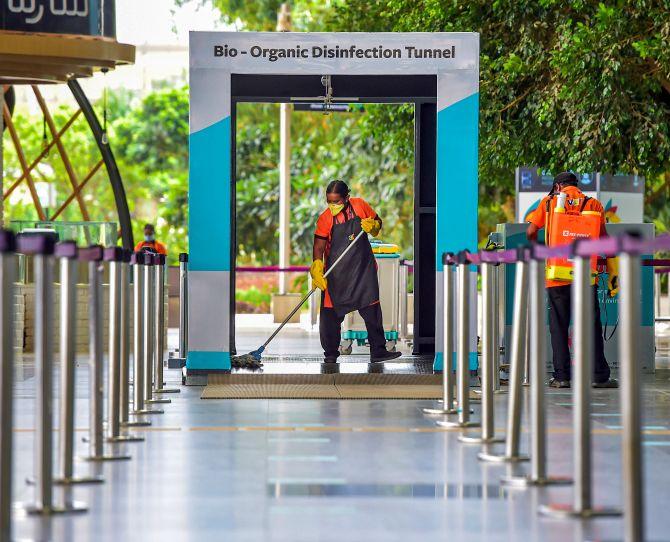 IMAGE: A housekeeping staff cleans the floor at Kempegowda International Airport in Bengaluru. Photograph: Shailendra Bhojak/PTI Photo
The Mumbai airport, India's second busiest airport, will handle only 50 flights per day from Monday, said officials, adding that all other airports in Maharashtra will deal with just one-third of the pre-lockdown domestic air traffic.
The Mumbai airport's operator MIAL on Sunday said it will "resume 25 commercial passenger flight movements on departure and 25 on arrival".
Indian skies will open up for domestic passenger flights from Monday after a gap of two months. It was announced last Thursday that one-third of the pre-lockdown domestic flights will operate from Monday.
West Bengal chief minister Mamata Banerjee had on Saturday said she will urge the Centre to postpone the resumption of domestic flight services at the Kolkata and the Bagdogra airports by a few days.
International commercial passenger flight services remain suspended in India.
"Starting tomorrow, there will be limited flights from Mumbai & as per approved one-third schedule from other airports in the state. Limited operations to West Bengal will commence on 28th May 2020," Puri said on Twitter on Sunday night.
Bookings had opened for around 1,050 domestic flights planned for Monday but the revised schedule has led to cancellation of several flights leaving hundreds of passengers disappointed.
The airlines were allowed to operate one-third of their capacity.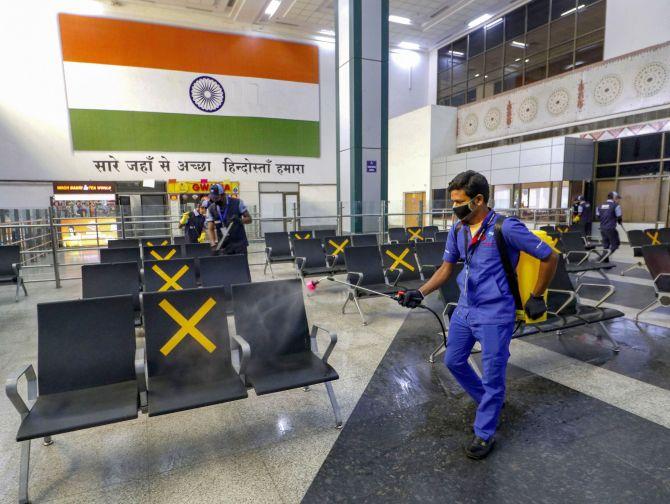 IMAGE: Airport staff disinfect Sardar Patel International Airport in Ahmedabad. Photograph: PTI Photo
As India enters the last week of the thrice extended lockdown for 68 days, the resumption of domestic flights comes at a time when new coronavirus cases in the country crossed 6,000 for the third consecutive day on Sunday, surging to a record single day spike of 6,767 infections.
The fourth phase of national lockdown to fight the COVID-19 pandemic is due to end on May 31.
The imposition of quarantine rules by several states which are at odds with each other also triggered concern among the flying and cabin crew of the airlines.
The Union health ministry, meanwhile, issued its own set of guidelines for domestic air, rail and road travel and also said states can also develop their own protocol with regards to quarantine and isolation as per their assessment.
Passengers were also advised to download the contact tracing application Aarogya Setu on their mobile devices.
The ministry while listing out its quarantine protocol among other steps suggested thermal screening at entry and exit points and said asymptomatic passengers will be permitted to go after reaching the destination with the advice they shall self-monitor their health for 14 days.
AirAsia said on Twitter that all passengers must read the health protocols of the destination states and it would "not be responsible for repatriating or bearing any quarantine or related costs of any guests".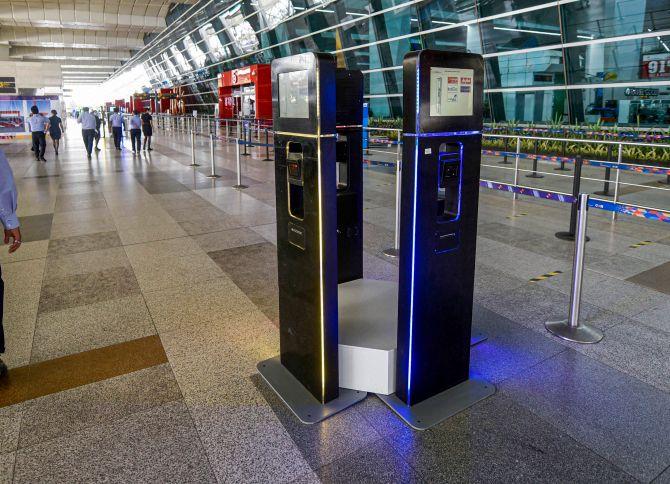 IMAGE: A view of 'Scan & Fly' kiosk outside T3 departure gate of Indira Gandhi International Airport in New Delhi. Photograph: Manvender Vashist/PTI Photo
States like Maharashtra, West Bengal and Tamil Nadu were opposed to immediate opening up of their airports in view of rising cases of the coronavirus infection.
The three states are home to some of the busiest airports in the country in terms of passenger traffic.
Maharashtra is the worst affected state with 50,231 cases after it recorded the highest daily spike of 3,041 COVID-19 infections on Sunday.
It is followed by Tamil Nadu which recorded 16,277 coronavirus cases.
Maharashtra chief minister Uddhav Thackeray had sought more time from the civil aviation ministry for restarting the operations at the Mumbai airport.
He also said minimum possible domestic flights from Maharashtra be initiated from Monday.
Home Minister Anil Deshmukh said on Twitter it is "extremely ill-advised" to reopen airports in red zones.
Scores of pilots and first officers appeared to be concerned about the lack of clarity on quarantine requirements for them. Many of them raised concerns over issues like quarantine procedures, personal and family safety, and flying into regions badly hit by the pandemic.
"There is no clarity on whether I need to go into home quarantine for 14 days after returning to my base or show up for duty on Monday," a pilot said, requesting anonymity.
IMAGE: A view of Netaji Subhash Chandra Bose International Airport in Kolkata. Photograph: Ashok Bhaumik/PTI Photo
The Centre's decision to resume services came as the aviation sector reeled under severe stress triggered by the lockdown in force since March 25.
Karnataka, Tamil Nadu, Kerala, Bihar, Punjab, Assam, Andhra Pradesh, Bihar, Uttar Pradesh and Jammu and Kashmir were among the states which have announced their respective quarantine measures for passengers arriving at their airports.
Some states decided to put passengers on mandatory institutional quarantine while several others talked about putting them under home quarantine or both.
The Delhi government directed authorities to ensure compliance of the Union Health Ministry''s guidelines on domestic travel, according to an official order.
Civil Aviation Minister Hardeep Singh Puri on Saturday questioned the need for quarantine if a passenger is shown green status in Aarogya Setu app.
The green status signifies that a passenger is safe.
Several executives from a number of airlines said since Mumbai and Kolkata airports handle a significant share of domestic flights, the operators are expecting the Centre to clarify the "prevailing confusion" relating to quarantine.
"Clarity is required on matters regarding quarantine and flights to Mumbai and Kolkata as it is affecting our bookings. Passengers are reluctant to book in such an environment," an executive of a low cost carrier said earlier in the day.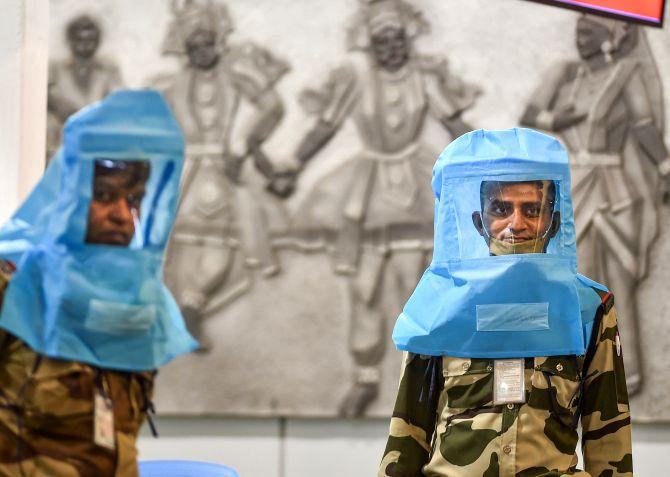 IMAGE: CRPF personnel wearing protective masks at the Chennai airport. Photograph: R Senthil Kumar/PTI Photo
Amid uncertainty and confusion, representatives of airline and several states held multiple meetings with top officials of the civil aviation ministry on Sunday covering a range of contentious issues like quarantine rules for flyers and standard operating procedures for leading airports, officials said.
The Jammu and Kashmir government said all incoming passengers will have to undergo 14 days of "administrative quarantine".
Similarly, the Kerala government said on Friday that all flyers will be under a 14-day home quarantine and that it has made an exception to those coming for business purpose or for a short duration.
Punjab chief minister Amarinder Singh had said all incoming passengers will be put in home quarantine for 14 days while the Bihar government said that travellers will be put on "paid quarantine" for 14 days.
Passengers coming to Andhra Pradesh would be put under home quarantine, said the state government, adding that once their test results for COVID-19 come negative, they will be relieved from quarantine.
The Assam government said it will be putting flyers on a 14-day quarantine. The passengers might be distributed equally in home quarantine and government quarantine, it clarified.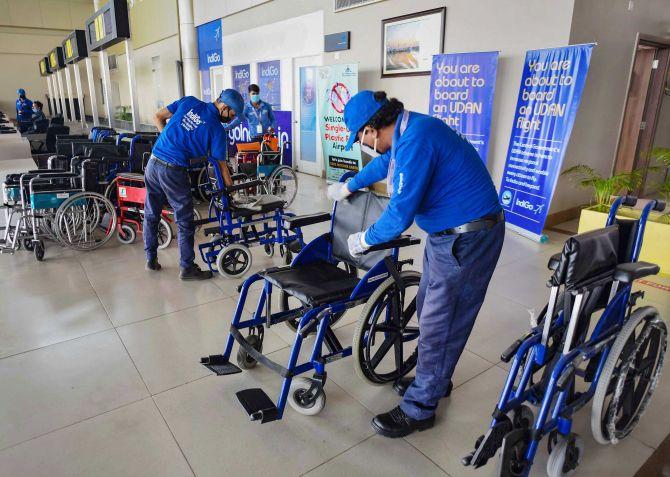 IMAGE: Workers disinfect wheel-chairs at Prayagraj airport. Photograph: PTI Photo
Karnataka government's health ministry made it clear that anyone coming from states where there is "high prevalence" of COVID-19 will be kept in institutional quarantine for seven days and if tested COVID-negative the passenger will have to spend the next seven days in home quarantine.
Karnataka has classified Maharashtra, Gujarat, Delhi, Tamil Nadu, Rajasthan and Madhya Pradesh as "high prevalence" states.
The passengers coming through the remaining states to Karnataka will have to undergo 14 days of home quarantine.
However, the state government clarified that special cases where businessmen are coming for urgent work will not require to undergo any quarantine if they bring test results that are not more than two days old and show them COVID-negative.