Ferrying migrant workers back to their states would be the largest special service by any railway network in the world in one go. Here's how the transporter manages it.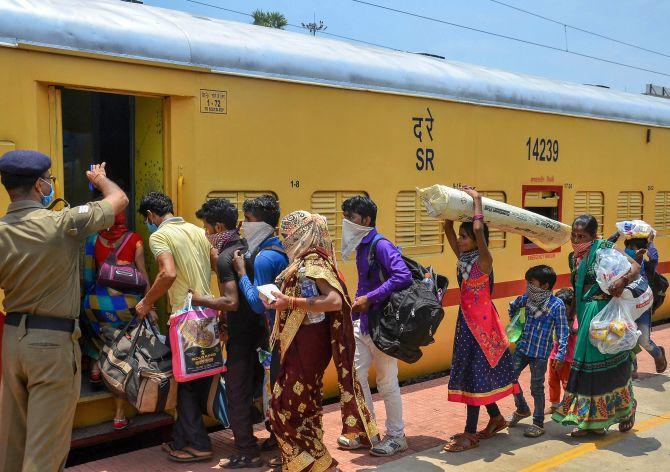 IMAGE: Migrants stand in a queue to board a train to their native places at Mangaluru junction railway station. Photograph: PTI Photo
Seven days into the first lockdown, the Indian Railways (IR) decided to run a lot of trains - but without a single passenger on board.
These were the trains or rakes (of 24 coaches each), to use the ministry's term, that were caught outside their home bases when the lockdown was announced.
In retrospect, this was a fortuitous decision.
"When the government de­cided to run the Shramik Specials, many zones would have been caught wrong-footed, without train sets to pick up the migrant wo­rkers," a former IR official pointed out.
Ferrying of an over 10 million workers will be the largest-ever special movement of people by any railway service anywhere in the world at one go.
But the operation did not faze the IR because its daily operations over 67,368 km transporting 23 million people is itself a colossal enterprise.
The Railways have already run 67 such trains and expects to run several hundred more over this month.
Railway officials point out that getting a rake ready on rail lines does not take too much effort.
The turnaround time for a rake after it has completed an over 1,000 km is about six hours.
It was much more difficult to bring back the empty trains from the destinations they had arrived at to their bases or home sheds.
The enormously popular Gee­tanjali Express, for instance, which runs between Howrah and Mumbai has five rakes (or 120 coaches).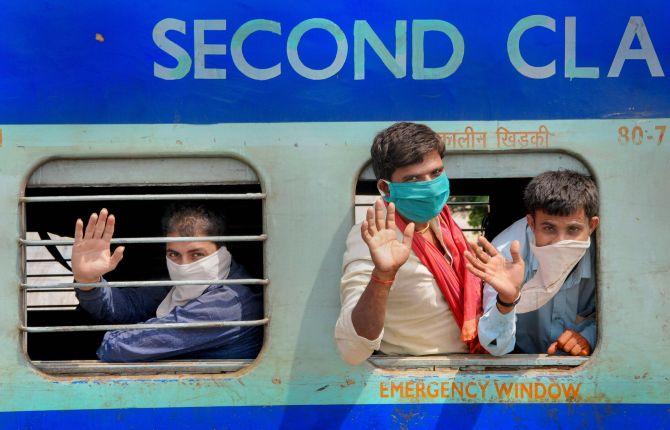 IMAGE: Migrant labourers wave from a train as they leave for Barauni in UP, amid the ongoing COVID-19 nationwide lockdown, in Amritsar, on Sunday. Photograph: PTI Photo
When the lockdown was announced, three of them were out of Kolkata, their home base.
The maintenance staff, too, were on board each train.
To bring them back to their home bases, the Railways had to "exchange" trains with their staff across the country along each route.
This meant if the Bhubaneswar Rajdhani with its base in Delhi is stranded in Bhu­baneswar, it was brought back to Delhi and if the Pu­rushottam Express with its base in Bhubaneswar was stranded in Delhi, it was sent back to Bhubaneswar.
The railway traffic of­ficers who are at the apex of the huge pyramid of IR operational staff, had been anticipating the governme­nt's decision to transport migrant wo­rkers to their respective home states.
Once the decision was made, three sets of staff had to be requisitioned: the running and maintenance staff; commercial staff (since tickets had to be issued); and catering staff at base kitchens to provide migrant passengers with food for the journey.
Because of the lockdown, each category was off duty.
This created its own set of problems.
At major stations such as Delhi, Howrah and Mumbai, IR has been running empty local trains for their bare minimum staff.
The problem was that these stations were closed to migrant travel owing to the lockdown.
Instead the trains were to run between smaller stations.
So the staff had to be sent out to stations like Nagor, Sabarmati and Na­shik and a timetable was constructed for their travels.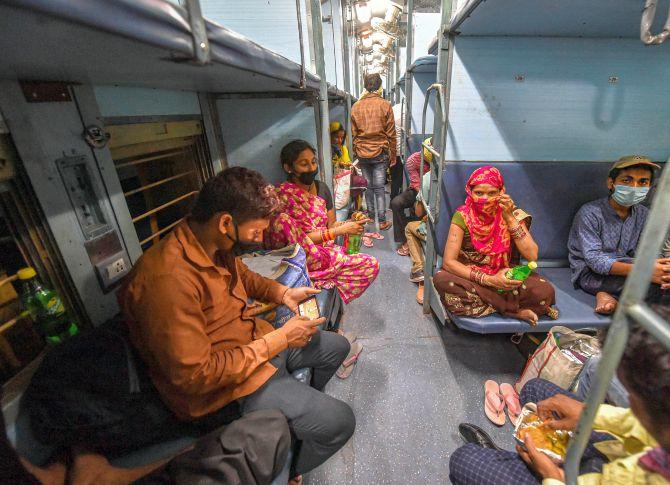 IMAGE: People board a train after the resumption of passenger train services by the Indian Railways in a graded manner. Photograph: Nand Kumar/PTI Photo
That timetable is now being supplemented with guidelines for the travelling crew to ensure cleanliness (toilets must be cleaned and provided with adequate liquid soap), for rules on how passengers will board and disembark from the trains (middle berths will be unoccupied), and even how to deal with miscreants.
Before any of these rakes began their journey, each had to be reconfigured.
Hardly any train on the IR travels without its complement of AC coaches.
The railways were again lucky because they had begun to cut these coaches off in preparation for turning many of them into hospital trains for receiving COVID-19 patients.
Those rakes that had been converted were, therefore, the first to be mobilised as Shramik Specials.
When the trains began their journey, each had to get a new number to identify them for the controllers who man each metre of the railway tracks.
These controllers, the equivalent of the air traffic controllers (and mostly men), were also largely off duty because no passenger tra­ins were running since March 22 (freight trains do not require so much staff).
Being in the nature of chartered trains, the decision to charge passengers was not that of the railways but of the states.
A special train is identified by the number zero. So train number 09771 is the special train between Jaipur and Patna that arrived with the first set of migrant workers from Rajasthan to Bihar.
These number sets had to be put on each of these trains as they spread across India running non-stop between the pairs of originating and destination stations on an internal timetable specially drawn up for the purpose.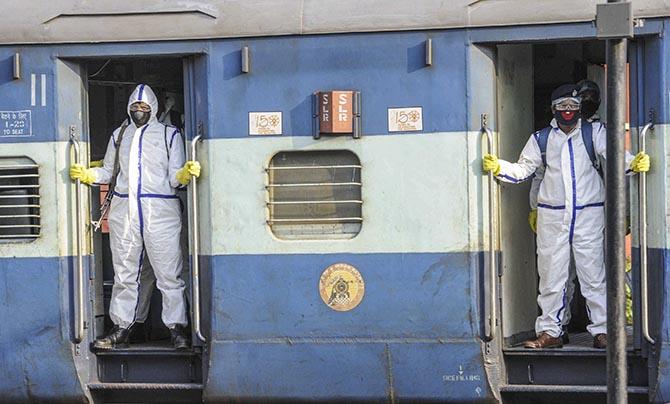 For instance, for May 3, eight such trains, designated 06515, ran between Be­n­galuru and Bhubaneswar, departing 9.26 am.
"The arrival time is not given be­cause they are difficult to pin down," said a commercial services officer.
Even so, the delays were minimal be­cause the trains had run on open tracks.
The worst was the 21-hour journey to cover 1,300 km between Kota and Ranchi - a distance that should take about 19 hours.
The IR blames the delay on the time it took to mobilise the passengers, which is the job of the state governments.
The timetable shows that as on May 4, three of the 67 Shramik Specials which have run till now, were late.
Not a bad re­cord for such an epic exercise.