Bookings made before and during the lockdown period for journeys till June 30 on regular trains have been cancelled and a full refund will be given to passengers, the Indian Railways has said.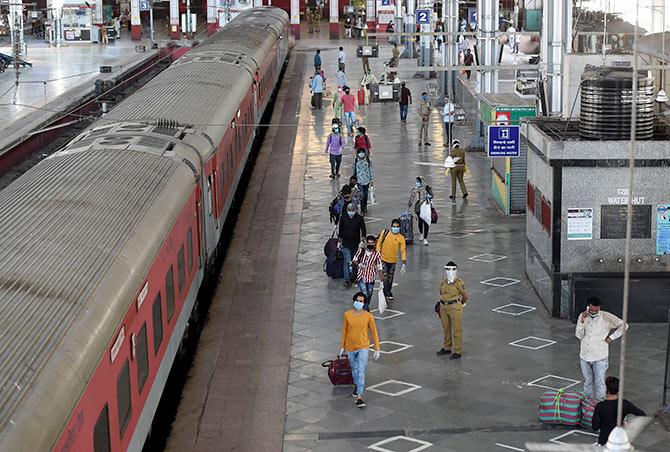 IMAGE: People with their luggage walk to board a special train for New Delhi from Mumbai Central railway station in Mumbai. Photograph: Kunal Patil/PTI Photo
However, bookings for Shramik Special trains which started from May 1 and the special trains which started operations from May 12 will continue, railways said in an order.
The tickets, which are to be cancelled, were booked during the lockdown period when railways was allowing bookings for journeys in June.
'Regular passenger service including Mail/Express, Passenger and Suburban services have been cancelled until further advice. Competent authority has desired that all tickets booked for the above trains for the period up to 30th June 2020 may be cancelled and full refund
generated as per provisions,' the order said.
While all e-tickets will be refunded automatically, those bought at the counter for journeys post March 21 can be cancelled and refunds taken upon submission of the ticket up to six months from date of journey instead of the present three days excluding day of journey.
'Passenger can file TDR (Ticket Deposit Receipt) within six months from date of journey instead of 3 days at the station and submit the detailed TDR within next sixty (60) days (instead of 10 days) to Chief Claims Officer/CCM Refund office for getting the refund amount, subject to verification,' the order stated.
It also said that for e-tickets while online cancellation and refund facility is available, passengers can also cancel PRS counter ticket through 139 or through the website of IRCTC and get refund across the counter within six months from journey, instead of up to schedule departure of the train.
Regular mail, express, passenger and suburban services of the railways had been suspended from March 25 due to the coronavirus-triggered lockdown.
Earlier, railways had stopped bookings for all regular trains from April 14.
Passengers who are disallowed from travelling on trains because of symptoms associated with the novel coronavirus will also receive full refund for their tickets, the railways has said.
According to the
guidelines issued
by the ministry of home affairs, all passengers shall be compulsorily screened and only asymptomatic passengers shall be allowed to enter/board trains.
'If, during screening, a passenger has very high temperature/symptoms of COVID-19 etc., he shall not be allowed to travel despite having confirmed tickets. In such case full refund shall be provided to the passenger,' the order stated.
It said that on a group ticket if one passenger is found unfit to travel and all other passengers on the same PNR also do not want to travel, in that case full refund shall be granted for all passengers.
In case of a group ticket if one passenger is found unfit to travel but the other passengers on the same PNR want to travel, full refund of fare shall be granted to the passenger who was not allowed to travel.
'For all the above cases, TTE certificates as per extant practice shall be issued to the passenger at the entry/checking/screening point itself mentioning number of passengers not travelled due to symptoms of COVID-19 in one or more passengers,' it stated.
'Full fare for the part passenger/full who have not travelled shall be refunded by IRCTC in the customer's account,' it said.
The railways has also started keeping records of destination address of all passengers booking their tickets on the IRCTC website to help facilitate contact tracing in case COVID-19 infections are detected among them later, officials said Thursday.
The provision to include the destination address has been made on the IRCTC website from May 13.
'With effect from May 13, IRCTC taking destination address of all passengers booking tickets. This will help in contact tracing, if required later,' Railway spokesperson RD Bajpai said, adding it would now be a permanent feature for the near future.
He also said that keeping in view the coronavirus crisis, it will be mandatory for passengers to fill up their address details for any bookings.
Earlier, in at least 12 cases, passengers travelling in trains were later found to be COVID-19 positive.