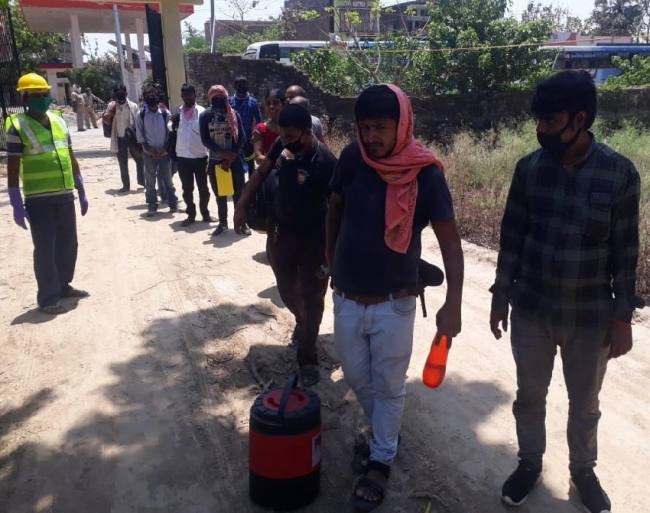 Two buses from Surat reached Bairia Baba Laxman Das Dwaba National Inter College on Sunday carrying a total of 65 people from different regions of Ballia district and Bihar. Five women in the above buses, two
Ballia: Administration activity has increased since a laborer kept in quarantine in Chapra was found to be Corona positive. After long stay in Ballia, the laborer was going on foot to Araria in his home state of Bihar. He was caught by the police in Chhapra and put into quarantine where after investigation he was found to be Corona positive. Meanwhile, the local administration has stepped up the search for people in contact with the said worker in Ballia. In this sequence, on Saturday, the administration team visited Amritapali, Kojipura and Satnisarai and sought the contact information of the workers found corona positive. Many people were questioned in this regard. The administration is awaiting the report of a sample of a youth who was with the labor. A sample of the youth was sent to Gorakhpur for investigation on Saturday.
Workers arriving home by buses
After the government's relaxation, the order of workers and students from metros and other districts is in progress. According to the Bairia representative, two buses from Surat reached Baira Baba Laxman Das Dwaba National Inter College on Sunday with a total of 65 people from different regions of Ballia district and Bihar. The said buses include five women, two innocent people and seven young children including a young woman. At the same time, a dozen of these people are from District Saran, Gaya, Arwal in Bihar state. Getting off the bus, the women arrived at the quarantine hall crying. The special thing is that in the corona epidemic, the administration and administration have not contributed in bringing these people struggling with economic crisis to the baria.
These people say that we have given ourselves one lakh 85 thousand rupees for a bus by themselves, told that the fare of each bus has been given as a fare of Rs 3725 per person. Even women and children coming from Surat could not find any asker to drink food on the way. There was a clear sadness and fatigue on the faces of the people coming from the bus. He said that the children who are suffering from hunger have somehow reached the baria by purchasing biscuits on the way.
On reaching Bairia, Sub-Collector Ashok Chaudhary and Naib Tehsildar Rajat Singh made arrangements for the women to stay in a separate room. At the same time, after providing tea to all the quarantined people, they made food arrangements. To make food for these people, ADO Panchayat Yogesh Chaubey, Kanungo, Lekhpal have been posted as the nodal officer for three kitchens and care.
Saurabh Kumar, resident of Arwal district of Bihar state, Amit Kumar, resident of Gaya district, Dilip Kumar told that in Surat we used to make plastic bags but the company shut down and the money was nearing the end, someone There was no one to ask there. We are being quarantined for 14 days in Bairia, a border area of ​​UP-Bihar, and when we go to Bihar, we will also have to have 14 days of quarantine. In such a month, a month will be passed for us. Munna Prasad, resident of Baburam and Ghazipur, hailing from Saran district of Bihar state, said that in this epidemic we were facing financial crisis, but had to take a decision to return home after not getting any inquiries.