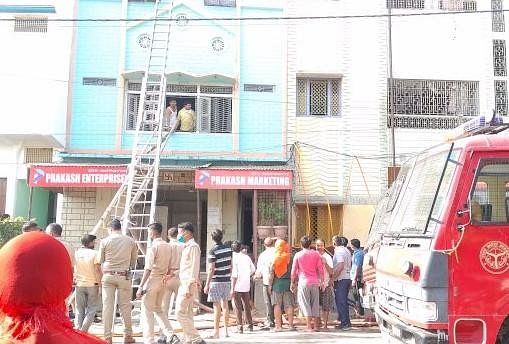 A sudden fire broke out in a house on Baleshwar Temple Road in Ballia Kotwali area on Friday morning. Immediately this was reported to the fire brigade. Fire brigade personnel managed to control the fire after hours of hard work. The same building also housed the family members of the cloth merchant, who were somehow saved through other houses.
There is a clothes shop on the city's Baleshwar Temple Road. The building that houses this shop is three storeyed. There is a shop on the ground floor and the businessman's family lives on the top two floors. The shop suddenly caught fire due to a short circuit on Friday morning. People made noise when they saw the smoke coming out of the shop. Hearing the noise, people gathered around and started an effort to control the fire.
People were trying to control the fire when the family members of the trapped businessman on the first floor and second floor of the house started shouting. Seeing them implicated, there was chaos. People around and the fire brigade staff somehow rescued them with the help of houses built nearby.
After this, the fire brigade personnel started an effort to control the fire. After about an hour and a half of effort, the fire was somehow controlled. According to the shopkeeper, he has suffered a major loss in this fire. Fire brigade officials say the damage is still being assessed.