It plans to use it as collateral, along with forex reserves, to print currency.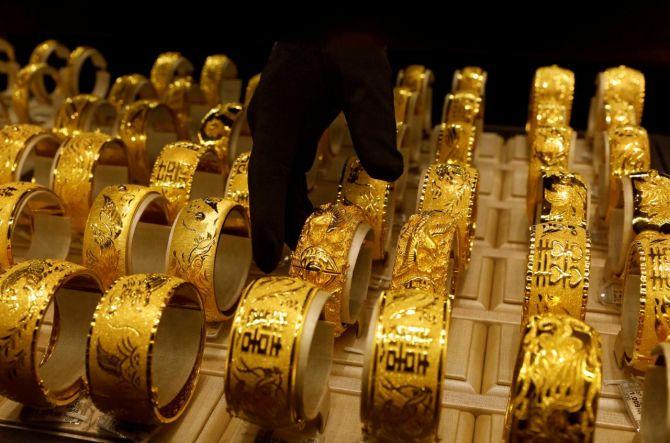 The government is working on a series of measures, including using household gold and foreign exchange reserves as collateral to print more currency, to finance the proposed expenditure to revive the economy, sources close to the development said.
The planned move will ensure that the newly minted currency does not put any pressure on the fiscal situation, the sources said.
Also, sovereign ratings will not be impacted owing to the presence of collaterals.
The government is likely to purchase gold from households without seeking the source, and the transactions will be done through the banking system.
According to jewellers who have opened their stores recently, many customers are visiting them to sell gold due to a spike in prices and absence of liquidity.
And it is expected that when more stores open, customers will continue to raise money by selling their gold holdings.
If the government institutionalises the gold-selling process through the banking channel, a significant amount of gold could be monetised legally, and this will help fund the ambitious economic relief package that has been planned.
However, an official aware of the development said, "The government will have to assure that while buying gold, no questions are asked about the source of gold." It will also be important that the transaction process is simple.
"Collaterising forex reserves from the kitty, along with locally sourced gold for printing fresh currency, will help India protect its sovereign credit rating."
There is also a proposal to take gold from the households and issue bonds.
However, given that the gold bond market isn't very liquid, it could cause problems for smaller households which do not have a substantial amount of bonds.
"If bondholders come to sell for liquidity, it could hurt the government and the private sector's borrowing plans," said a gold industry source.
At current market prices, Indian households are estimated to be sitting on 25,000 tonnes of gold, valued at $1.5 trillion. India's foreign exchange reserve kitty has over $480 billion.
Even if five or 10 per cent of this can be collateralised, the government can easily print a few trillion worth of new currency without any fiscal pressure and help infuse more funds in the hands of the people.
This will also help a lot of unproductive gold lying with households to be monetised.
Sources said if the response to this gold scheme was better than expected, the portion of gold which was not collateralised could also be used to lease to jewellers and reduce import of fresh gold import.